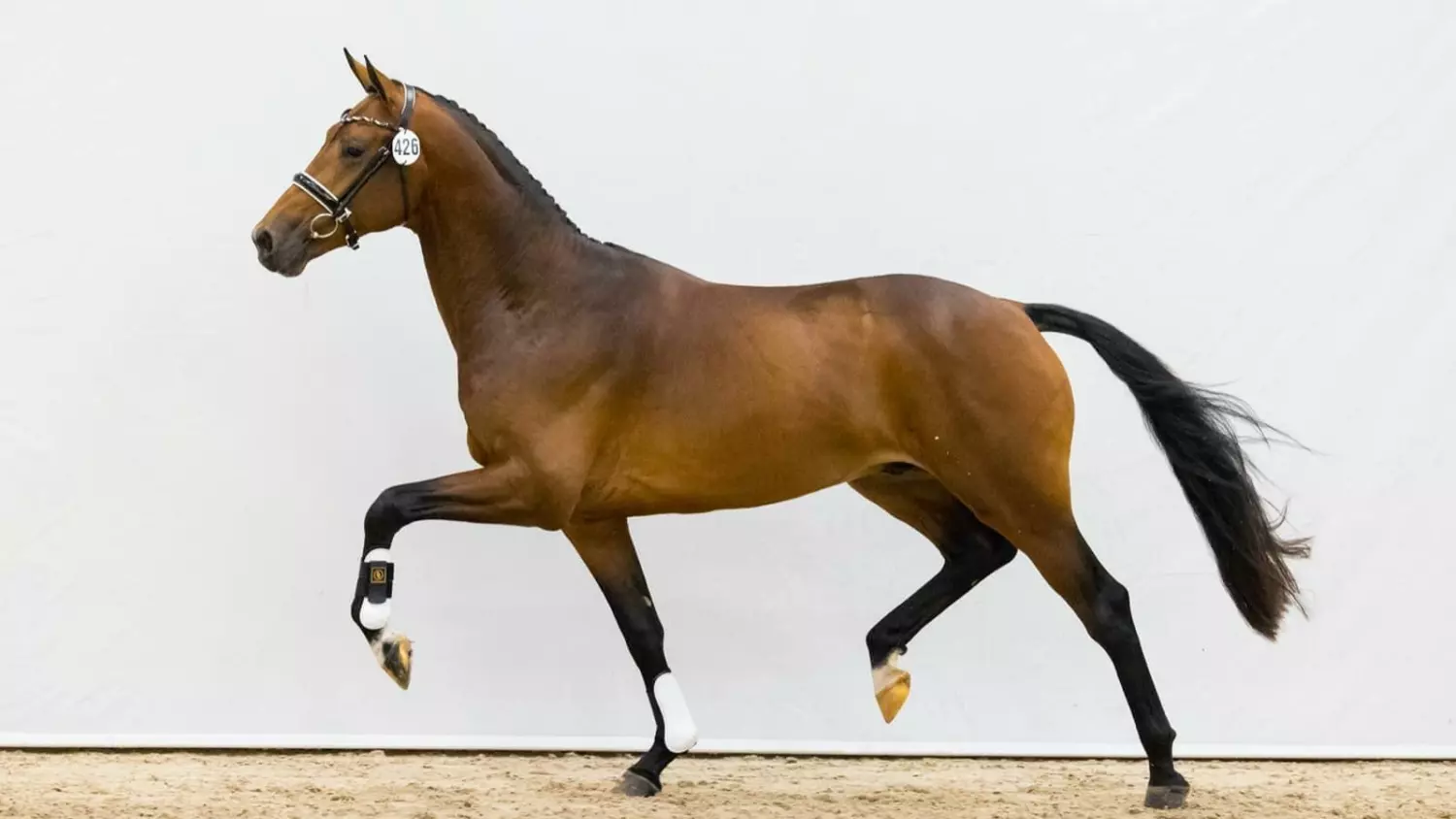 18 Feb 2021
Premium stallion Next Pitch is newest addition to Reesink Stallions
Rufen Sie uns an
+31 6 82 66 36 38
Premium stallion Next Pitch is newest addition to Reesink Stallions!
The KWPN premium stallion Next Pitch (Geniaal x Blue Hors Hotline) is the newest acquisition for Reesink Stallions! The young stallion, bred by Suzanne Smeeing and Wouter Lodder of Unlimited Horses from Lunteren, was one of the crowd pleasers of the KWPN STallion Show. Bas Reesink is very pleased with the purchase: "Everything around the sale has been settled and I am very happy that Next Pitch comes to our stable today!"
Wouter is enthusiastic about the sale of Next Pitch to Reesink Stallions. "We are a bit stubborn, we wanted to experience the whole adventure ourselves," says Lodder. "For all parties this is very nice! We have done really good business! We were already in contact with Reesink Stallions before the the stallion first viewing. When Next Pitch was accepted by the KWPN studbook and became a premium stallion, the interest in him grew. Not only Dutch stallion owners, but also Grand Prix riders wanted the stallion. We also received offers from Germany, Denmark and France. The interest was overwhelming."
Suzanne and Wouter bred Next Pitch out of the mare It's a Litchy. "It is nice to know that she is the last offspring of Litchy. Litchy produced stallions like Painted Black and Zizi Top and the Grand Prix horse Go Legend (ridden by Marlies van Baalen, ed.)," Lodder continues. "At the time we chose to cover It's a Litchy with Geniaal, to get more body. The mare has a lot of blood. And my wife is crazy about Vivaldi (Geniaal's sire) and with Biotop there is also a bit of Trakehner blood in it. It is linebred to Ferro, with that you get the strong hind leg."
Wouter continues: "We breed about four foals a year. In the year of Next Pitch we had two colts and two fillies. We kept the two stallions and then there is such a special one between them! It was great to experience the whole process together with Marcel van Manen from close by."
At the KWPN Stallion Selection Next Pitch was one of the favourites of the viewing public. The selection committee also praised the stallion. Bert Rutten, chairman of the stallion selection committee, said: "He is a modern, elegant stallion with a good dressage model, who combines light-footedness, power, suppleness and uphill tendency. In short, everything we are looking for in a premium stallion."
Bas Reesink concludes, "We chose Next Pitch because he is very complete. He has a strong dam line and has a super nice character, he is in everything relaxed and down-to-earth. And then he has three very good gaits and a beautiful exterior. He has never dropped a stitch. We are very excited that Wouter has given us the opportunity and trust. We are convinced that the stallion will have a golden future. Next Pitch is broken in first and then he will be covered at our studfarm in Uden. Dinja van Liere will of course train him. There is also interest from foreign breeders, so we will also offer him at German studbooks."