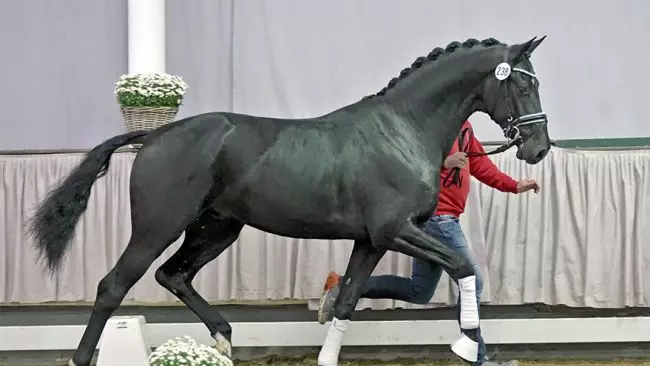 23 Nov 2020
Reesink Horses successful in Westphalia with Vitalis-son's approval
Rufen Sie uns an
+31 6 82 66 36 38
Westfälische Hauptkörung
Reesink Horses successful in Westphalia with Vitalis-son's approval
Monday brought another success for Reesink Horses. Our 2.5-year-old son of Vitalis was approved at the Westphalian Stallion show. The black eyecatcher impressed in free movement. And with the good presentation on the lunge and on the hard surface he got his approval. Congratulations are of course also in place for the co-owner of the stallion, Johan Ifverson.
Albert Röber from Colnrade bred our son of Vitalis out of the mare Elfenbraut. She is a daughter of San Amour I from the Staatprämie and Elite mare Elfenwacht (s. His Highness). The stallions damline produced many sport horses, but also a number of approved stallions. Third mother brought among others Danönchen OLD (s. Danone I) who was successful under Matthias Alexander Rath in the Small tour. Also from this dam line comes Minna Telde's Grand Prix horse Don Charly.
Some licensed stallions out of the same line are: Depardieu by De Niro (DR int. Grand Prix), De Vito by De Niro, De Kuyper s. De Niro, Razzmataz s. Raphael, Florion s. Florencio I, Dimanche Royal s. De Niro (DR S) and many others.
As a foal, the stallion already received a foal premium from the Oldenburger Verband.