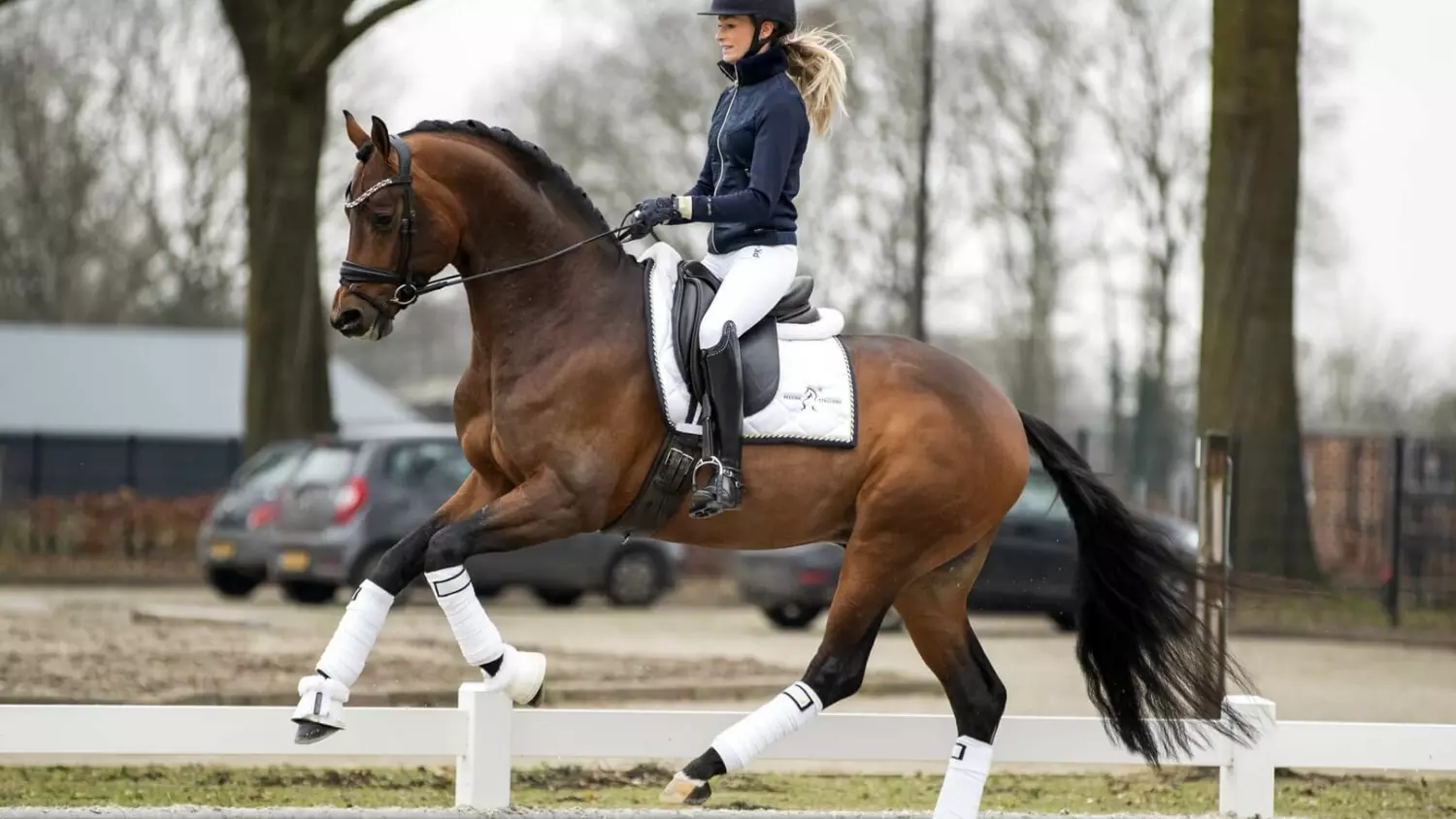 Call us
+31 6 82 66 36 38
Stallion Station for Reesink Horses in Uden
Reesink Stallions
Reesink Horses has expanded and opened its own stallion station at a beautiful location on the Sonhofweg in Uden. A number of stallions and talented dressage horses will be housed at this second location. The accommodation is being converted into an EU station. With this choice we can serve the foreign breeders in addition to the Dutch breeders.
The KWPN approved stallions McLaren, Lowlands and Kaiman and the German approved stallions Fonq and Frankie Lee have already found their stable in Uden. Dinja van Liere has entered into a partnership with us and is, in our eyes, the ideal rider to realize the training of these top horses. She is a widely respected dressage rider who has proven to perform at all levels. We are very pleased that we have this cooperation.
With the Dutch location and the collaboration with top German stallion stations, our position in the international dressage world is further strengthened.
Important step in career
Dinja van Liere
In August 2020 Dinja van Liere joined the Reesink Horses team. The dressage rider is originally from Zeeland and has moved into our location in Uden. Dinja already has some of our young talents in training. "Each one of them are super nice horses to work with, they have top characters", says Van Liere. Dinja is the ideal rider to train the top horses. Van Liere has already proven to be able to perform at all levels.
From jumping to dressage
Dinja van Liere started riding at the age of six. Her grandfather gave her her first pony and she was mainly to be found in the show jumping course. At the age of eleven, Van Liere got a pony. "He wasn't that sweet," says Dinja. "In the course he preferred standing still instead of jumping. I then focused much more on dressage with him to gain more control. That's how I started to like dressage more and more. "
"I wanted to work with horses"
Gradually, Van Liere got more horses to ride. She was regularly put on difficult ponies to correct them. Grandpa bought a horse and other owners also offered Van Liere horses to ride. Dinja only had one wish, to keep working with horses. That did happen after her pre-university education. Van Liere: "After I graduated high school, I didn't know exactly what to study. I hoped that I could work with horses somewhere. I started taking lessons with Thamar Zweistra at Stal Hexagon van Leunus van Liere. "I wanted to learn the switches. At one point Leunus asked if I knew someone who could work for them. I didn't think twice about it and said I wanted to."
Duval's Capri Sonne Jr.
At Hexagon, Van Liere was given every opportunity. She reached the Grand Prix with Hexagon's Roumanda and started riding the KWPN stallion Duval's Capri Sonne Jr. (v. Rhodium). Due to the successes with Capri Sonne, with which Van Liere won bronze at the world championships for young dressage horses, other stallion owners also came up with offers.
Reesink: "Dinja is the ideal rider"
In 2015 Dinja van Liere started her own business. Through Laurens van Lieren Dinja came into contact with Jan Pieter Dalsem. From him she got the Johnson son Hartsuijker under saddle, who is now successful the Small Tour. Dinja got to know Eugène Reesink through Dalsem. Eugène Reesink: "That's how we got into a conversation with Dinja van Liere. She wanted her own place and is also convinced of our stallions. We wanted to bring everything together at one place. In our eyes Dinja is the ideal rider to train these top horses. "

"Unique opportunity"
For Dinja van Liere, the collaboration with Reesink Horses is a "unique opportunity". "I already rode a couple of really nice horses from Reesink. I have a lot of confidence in Eugène's knowledge and expertise and they invest a lot in talented young stallions ", says Dinja. In addition to a number of dressage horses, Van Liere currently has four stallions from Reesink Horses in training.