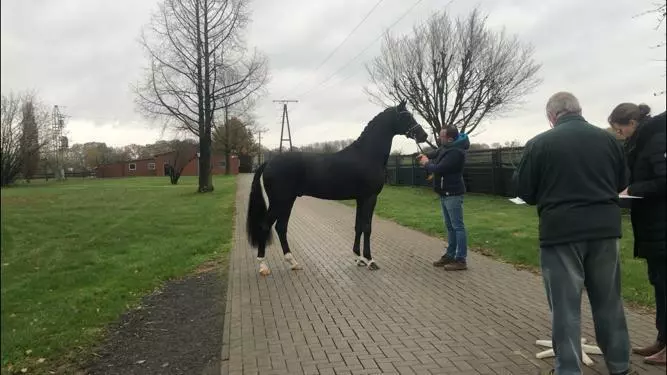 18 Nov 2020
Dettori-son approved in Mecklenburg
Call us
+31 6 82 66 36 38
Stallion show Verband der Pferdezüchter Mecklenburg-Vorpommern
Dettori-son approved in Mecklenburg
Our young stallion Noble Savage, by Dettori out of the Rousseau-daughter Westside, was approved for breeding yesterday at the Verband der Pferdezüchter Mecklenburg-Vorpommern. Because the inspection days of the studbook in Redefin were cancelled due to the covid-19 pandemic, the beautiful, elegant black stallion was judged by the stallion inspection committee at Stefan Holtwiesche in Gescher, Germany. The breeding product of Mrs H.G.A. Verdellen from Hegelsom showed itself well on the hard surface and in free movement.
Mrs Verdellen bred Noble Savage out of the voorlopig keur mare Westside (Rosseau x Flemmingh x Hemmingway). The Dettori-son is a half brother to Jeroen Okkema's Light Tour horse Hyatt. Last year Okkema and Hyatt won bronze at the KNHS indoor championships at fourth level.
Third dam Lantana (s. Hemmingway) brought the Grand Prix horse Vitana V (s. Donnerhall). This mare was successful under Stephanie Peters, Madeleine Witte-Vrees and ended up via Morgan Barbançon with the Korean Yoora Chung. Vitana's most famous offspring is KWPN stallion Cennin (s. Vivaldi), which is Madeleine Witte's current Grand Prix horse.
Noble Savage gets a new name with the approval in Germany. His name will be Dark Horse.