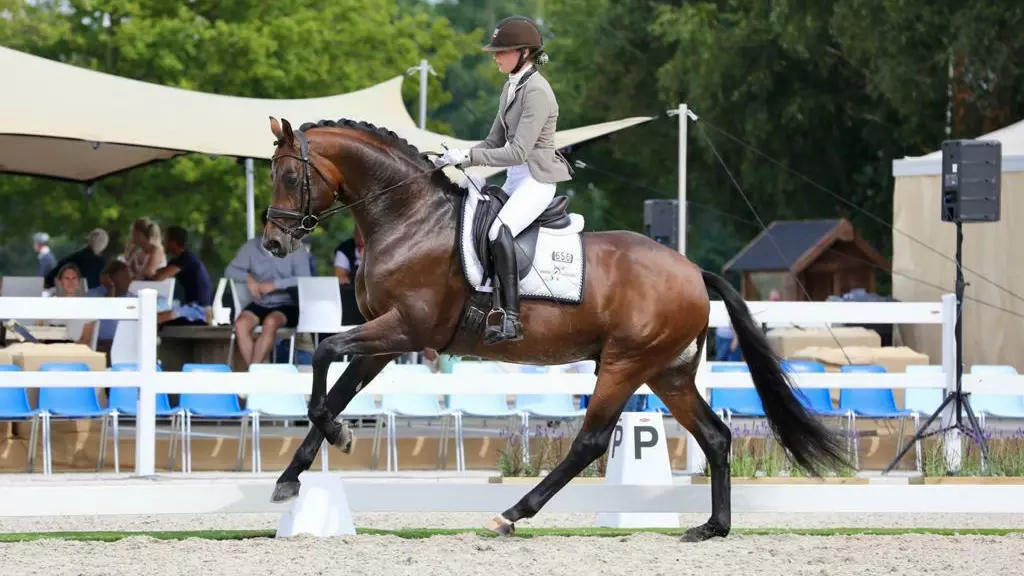 13 Aug 2021
Dinja van Liere rides five horses to the final PAVO Cup
Call us
+31 6 82 66 36 38
Dinja van Liere rides five horses to the final PAVO Cup
The semi-finals of the PAVO Cup on 12 August were a great success for Dinja van Liere. With no less than five horses, the top rider made it to the final, which was held on Sunday at the National Equestrian Centre in Ermelo. Among the five dressage horses selected for the finals were the approved stallions McLaren, Mauro Turfhorst and Lowlands.
Brecht D'Hoore and Janine van Twist judged the four-year-old dressage horses. The beautiful, elegant stallion McLaren (Morricone x Sir Donnerhall, bred by U. Toenjes) performed like a king under Dinja van Liere, which resulted in the beautiful score of 86.2 points! He scored a 9 for harmony and an 8.8 for general impression. The judges said about McLaren: "This stallion has a strikingly beautiful front and moves very nicely uphill. He was presented very consistently with good length in the frame and stayed nicely on the bit. This horse was already remarkable in balance."
Dinja van Liere rode Mauro Turfhorst (Zonik x Negro) to 83 points, also more than enough for the final of the four-year-old dressage horses. The son of the recently deceased Grand Prix stallion Zonik did a proper, solid test. Mauro Turfhorst, who was reserve champion of the performance test, is strong in his trot and canter parts. The breeding product of Jan Greve from Haaksbergen, owned by Stoeterij Turfhorst and Reesink Horses, received an 8.8 for his canter.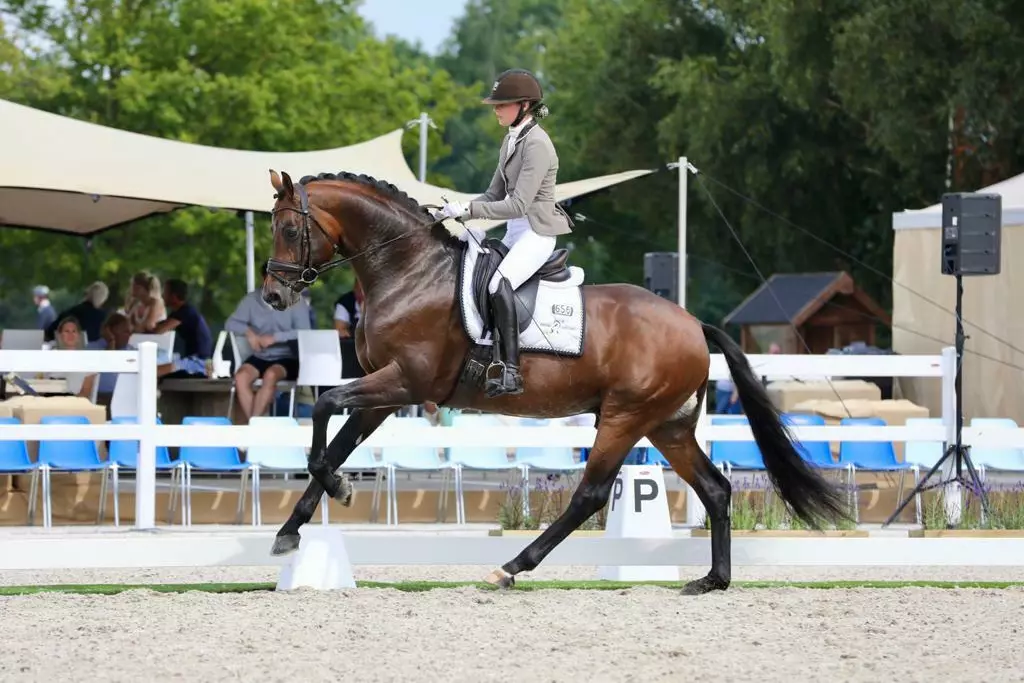 Semi-final five year olds
The semi finals for five year olds were judged by Grand Prix and young horse specialists Hans Peter Minderhoud and Emmelie Scholtens. Dinja came fourth and fifth with Labarron and Leonidas. Lowlands came ninth. Fourth place was for Labarron (For Romance x Tuschinski, breeder L.M. Bergers-Ketterink from Braamt) of Reesink Horses with 85,2 points. Emmelie Scholtens said in her comment: "This is very much a blood type horse, personally I like horses with some blood. He was a little tense in the beginning, but he is a horse with a lot of potential. He is very light-footed and stayed very nice on the bit." The Trafalgar son Leonidas (out of a mother by Alexandro P, breeder R.G. Nijenhuis from Wilp) of Jan Pieter Dalsem scored 85.0 points. Scholtens: "Dinja had really different horses, this is a very different horse than Labarron. Leonidas is a very powerful, strong horse."
A nice balanced test brought Lowlands (Millenium x Donnerball) into the final with 83.8 points. The stallion from Iron Spring Farms in the USA was already reserve champion of the KWPN performance test. Once more the son of Millenium made a huge impression. His walk was again very good, but also in trot and canter Lowlands showed a lot of power and balance.
Pictures Melanie Brevink-Van Dijk/Paardenkrant