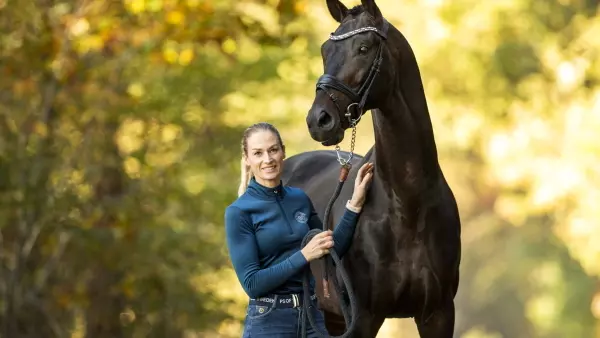 05 Jan 2021
King's Pleasure sold to Endel Ots and Heidi Humphries
Call us
+31 6 82 66 36 38
King's Pleasure sold to Endel Ots and Heidi Humphries
Endel Ots from Wellington, Florida, recently welcomed the Oldenburg approved KWPN'er King's Pleasure (Dark Pleasure x Johnson) in his stables. Ots herewith crowns his renewed collaboration with Heidi Humphries. The American already purchased dressage horses for Endel Ots.
Heidi Humphries was looking in Europe for a talented horse with which Endel Ots could reach the international top again. Because of Covid-19, Humphries and Ots could only watch horses through videos. "When we saw King's Pleasure", Ots told Eurodressage, "we fell in love immediately. From videos like this we could both see the charisma and athletic ability of the horse."
King's Pleasure was approved in Oldenburg and then passed the sports test in Germany with good marks (8.8 average). Back in the Netherlands Femke de Laat rode the son of Dark Pleasure in the PAVO Cup. In the finals the couple became third. Guest rider Philipp Hess rewarded the stallion with a 9 for ridebility!
At the beginning of last year King's Pleasure arrived at the stallionstation of Jens Hoffrogge and Beatrice Buchwald. Under the saddle of Beatrice the stallion won a selection test for the World Championships for five year olds. Their score was 8.2. Because of Beatrice's pregnancy Dinja van Liere took over the reins.
We thank Endel Ots and Heidi Humphries for their trust and wish them all the best with King's Pleasure. Also many thanks for good cooperation with Femke de Laat, Beatrice Buchwald and Dinja van Liere. We enjoyed King's Pleasure!
Source Reesink Horses/Eurodressage.com