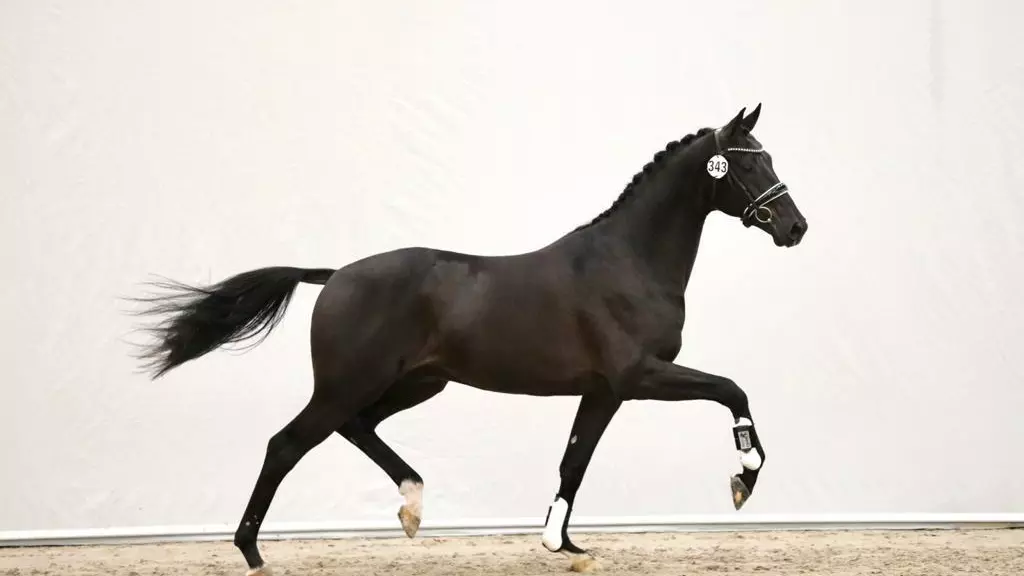 04 Feb 2021
Nashville appointed for KWPN performance test
Call us
+31 6 82 66 36 38
KWPN Stallion Show
Nashville appointed for KWPN performance test
On the first day of the second round viewing for dressage horses at the KWPN Stallion Show, Nashville was selected for the performance test. Nashville is a strong moving, complete stallion by Kristina Bröring-Sprehe's Olympic horse Desperados FRH. With his impressive performance he was one of the trendsetters of the inspection. The chic black stallion was already striking as a foal and became one of the price-toppers of the Elite Foal Auction Borculo.
Bert Rutten, chairman of the stallion selection committee, praised Nashville: "It is a chic, blood-made stallion. In all the selections he showed a lot of power and he can easily shorten and lengthen his stride. He moves light-footed and also on the lunge he showed a lot of balance."
Nashville was bred by L. Martens & dochters of Zuidveen. His sire is the Grand Prix stallion Desperados FRH (by De Niro). Under his rider Kristina Bröring-Sprehe, he won the German national title at Grand Prix level several times, was European and World Champion with the German team, and achieved several individual medals. The highlight of his sporting career was his participation in two Olympic Games. In London the pair won team silver and four years later in Rio de Janeiro they won team gold and individual bronze. Also as a sire Desperados is influential. At the HorseTelex dressage ranking Desperados is in fourth place.
The voorlopig keur mare Ezrasijgje, from the well-known Sijgje line, is Nashville's dam. She is by the Grand Prix and Keur stallion Westpoint. Nashville's grandmother is the preferent and prestatie mare Rasijgje who descends from the GP stallion Montecristo. She was active at ZZ-Zwaar level. In addition, she produced the ZT horse Walskoning (Aat van Essen) by Jazz.
Nashville is available at our station Reesink Stallions in Uden. The stud fee is 900 euro.